The True Purrsuit
This is what I've wanted for a long time. As long as I can remember, to be honest. Just... a friend. A little furry friend to cuddle, cherish, hold and fuss over. I'm not a very social person by any means. Sure, I have friends. But I don't like going out (amazing for someone my age) and doing things a lot, I'm a very home-centered individual. I'm most comfortable here. But there are only so many people to keep my company. With my parents working, my brothers and their sports, girlfriends, etc... I'm usually pretty lonely here.
I really want a kitty. Just someone who will lay beside me, watch TV with me, cuddle with me, sleep with me, talk to me, play with me... I want to give my love unconditionally, I want to care and spoil my friend in return.
I am mentally ready to accept the responsibility. I am completely and throughly responsible for the things I do, and my parents now trust me with a lot of things they didn't trust me with before. I'm growing as an individual, but stunted slightly by this cat-shaped hole in my heart.
What kind of cat do I want?
I hope this doesn't sound too terribly close-minded of me, but, it's been a selfish little dream of mine to get a white, long-haired female cat/kitten. Since I was little, I've always wanted one... It's kind of a childhood thought that hasn't faded.
Is it bad to know what you want already?
I mean, it probably sounds so incredibly mean that I'd pass up dozens of perfect cats just because they don't look a certain way.
Is that a prejudice? Does that automatically make me a bad cat-mommy?
Of course, I want my cat to be extremely affectionate, quiet, gentle and loving to be fussed over. If I saw a cat that fit the physical description, but was a mean, crabby cat-- I would certainly not pick that one. I just feel guilty for excluding hundreds of cats from my mind because I want only one apperance. Makes me feel really bad, but it's just a guit-ridden dream of mine.
That being said, though, I'm not going to any fancy breeders or anything. I am completely positive that I am going to the Humane Society to get my furry friend. I'd rather have a cat who needs love and attention...
Though I'd love to have two cats, that isn't a possibility right now. My parents & I can't afford to have two cats when they have three mouths to feed and house bills to pay off. It just can't happen right now. When I move out, I certainly plan to add to my cat-family. But for now, I can only have one.
And as much as I melt when I see a kitten, it'd be easier for us to get an adult cat. I think a lot of grown cats miss out on homes because people naturally gear towards the kittens. Not saying that if you get a kitten, you're bad or anything. I'd just rather get a cat that is already litter-trained and accostumed to different living conditions. I hear they also make easier shelter-to-home transitions.
I already have some names lined up.
Hopefully that isn't a bad thing either?
I know that you should name your cat once you have it, but I've got a small list of ones I like that would fit a variety of different personalities. I don't have any positive names yet, because I don't have the cat yet, but... These are the names I really like.
For a girl:
Aurora (I've always loved the name, it's just got a beautiful ring to it. And the meaning also paints a gorgeous picture in my mind. "Bringer of the Dawn". She was a Roman Goddess who brought on the sun after night faded, had a chariot of white horses she rid across the sky, etc... I am in love with this name!!!)
Ivory
Diamond

Princess ( I plan to probably put this in front of any name I choose because I've always wanted a cute little princess kitty! )
For a boy:
Romeo

Augustus ( "Auggie")

Leonardo ( "Leo" )

Angelo
Charles ("Charlie")
Anyhow... Those are some names... They're all subject to change. I just like to make lists of certain things. Keeps me organized.
I've also browsed different adoptable pets online from area shelters. I've currently got two I have my heart set on. Would you like to see them? =)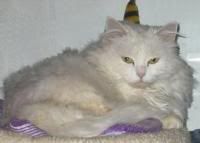 Isn't she gorgeous? She's a dainty (
tiny)
fully grown Persian Mix. She's located only about 70 miles away in Saint Paul, MN. On the site, it said she was very affectionate, loves to be fussed over and is quite the monarch of the group... I'm contacted the shelter through e-mail. They haven't gotten back to me yet, though.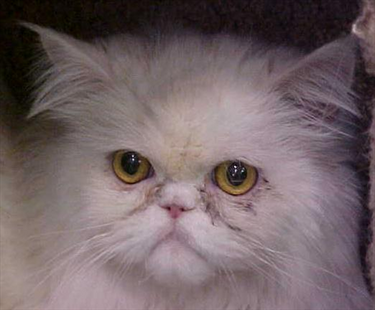 This is the male canidate. He's a full white persian, located a bit further north than the cities. He was abandoned, but that's all I know about him. I also contacted the shelter last night, they have yet to get back to me as well.
What do you guys think about all this?
Quite frankly, I'm nervous.